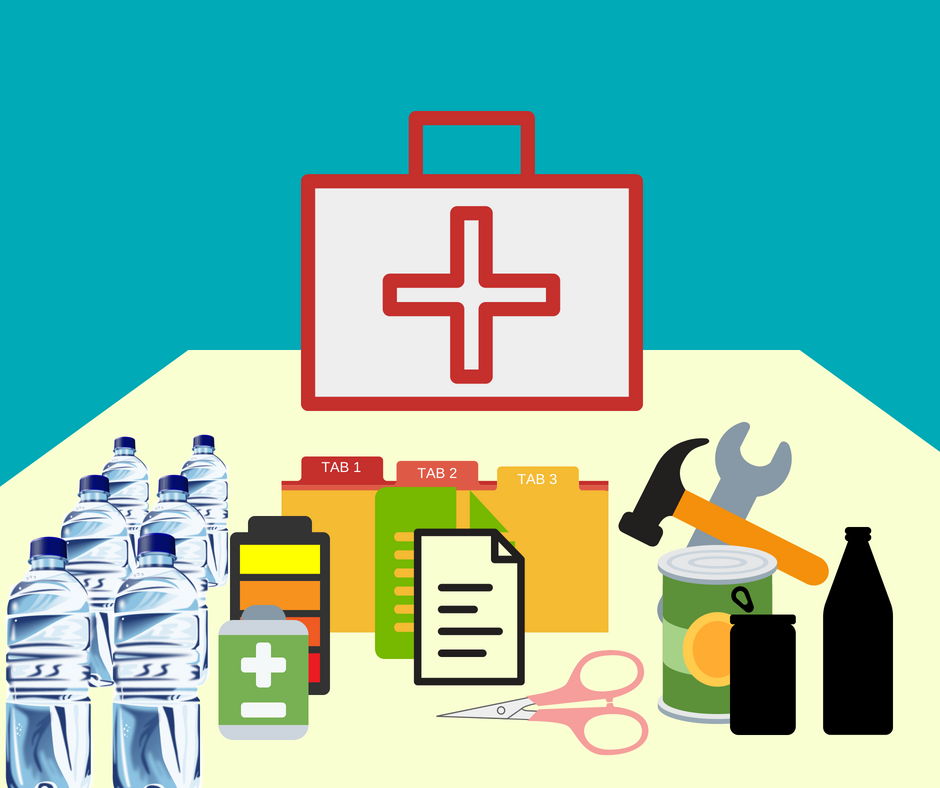 Let's face it: owning a business is hard work. As a business owner, you are likely juggling about a hundred things at once, and sometimes it's tough to think ahead and consider major "what-if's" that might affect your business. Time after time, we've seen unsuspecting business owners caught off-guard in the event of emergencies like natural disasters, putting the health and safety of their employees and livelihood in danger.
Here at ServiceMaster Restoration by Simons, we know how important the safety of your employees is, and that's why we recommend assembling a simple yet effective emergency kit to keep on-site at your business. It might sound like a daunting task, but we spoke to David Scott, a founder of the online emergency supplies store lifesecure.com, to get his list of essential items you'll want to make sure you include in your kit.
---
     

Clean water:

 We recommend you have three gallons of water per employee on hand.  This should last each employee three days, which could be necessary if they are stuck at your business waiting out a storm. This water can be used for drinking and sanitary purposes if you lose access to your typical water supply. Make sure you check the expiration dates on each container of water regularly and restock as needed.

     

Non-perishable food:  

Again, we recommend a three-day supply of food per employee who works on-site at your business. Stock at least 1,500 calories per person per day of non-perishable food. Some items we recommend include soups, peanut butter, dried fruit, and granola. As with your water supply, keep track of expiration dates and replace as needed.  Additionally, make sure you have disposable utensils, plates, and a manual can opener handy.

     

Emergency supplies:  

Store all your emergency-related supplies in a drawstring or duffel bag together so employees can access them easily. Items we recommend including in your bag are: ponchos, blankets, a hand-cranked radio, backup batteries, portable (and fully charged) backup power source for phones and other small electronics, duct tape, and flashlights.

     

First-aid supplies:  

We recommend purchasing a small first-aid kit from your local department store or pharmacy, and adding extra items as needed. Make sure you have plenty of bandages, gauze, medical tape, alcohol pads, peroxide, antibacterial ointment (Neosporin) and over-the-counter pain relievers. Eye Drops, menstrual supplies, wet wipes, facial tissues, and mouthwash are a few extra items you might consider adding.

     

Tools:  

A small set of tools in a toolbox (many hardware or department stores sell these in complete sets already) is ideal to have on-hand in the event of an emergency. Make sure the set includes items like scissors, wrenches, screwdrivers, and pliers – all essential tools to have in case you need to complete emergency tasks such as turning off water valves.

     

Important Documents:  

Make laminated copies of important business documents, contact information for property management, local emergency numbers, business insurance assets, and other documents you might need if the unthinkable happens. Store these in their own folder in an easy-to-access place.
With these items, your business' emergency preparedness kit should be relatively complete, but we recommend you also think ahead and add other items specific to your business/employees that you could envision needing in the event of an emergency.  After all, nobody knows your business and employees better than you do!
After you create your kit, make sure you store the various components of it in easy-to-access places, as closely together as possible.  If an emergency occurs, you and your employees will need to snap into survival mode quickly, and an inability to locate your emergency kit could serve as an obstacle. Additionally, make sure you continue to check expiration dates and battery power. Be sure to replace items in your kit as needed.
Finally, an emergency preparedness kit is only as good as the instructions your employees have for finding and using it if disaster strikes.  We recommend scheduling a meeting to go over the kit with your employees, including its storage location and its contents. This is also a good time to bring any emergency preparedness plans (like evacuation routes, contact information, meeting places, tornado/hurricane shelter locations, etc.) to the table for discussion.
David co-founded LifeSecure in 2005, just a few months before Hurricane Katrina taught everyone that one can go hungry and thirsty in America and even die before help arrives. For over a decade David has focused on developing and discovering superior emergency and disaster survival solutions – kits and supplies. He has trained community groups in emergency preparedness, helped non-profit organizations prepare emergency kits for needy individuals, conducted community emergency response exercises, and developed emergency plans for non-profit organizations. David makes an ongoing study of how best to prepare for and respond to various natural and man-made disasters, and his mission has been to help others "live Life SECURE" every day by preparing for what may come someday.  Learn more about David.